User
Posts

18354

Location

The Republic of Malpas
Not sure if its true but talk on terrace last night was that Lincoln have asked for 4000 tickets if we are not in with a shout at playoffs surely put extra seats in (as we did for the Cup)think of the money
User
Posts

2091

Location

Taunton
UPTHEPORT wrote:Not sure if its true but talk on terrace last night was that Lincoln have asked for 4000 tickets if we are not in with a shout at playoffs surely put extra seats in (as we did for the Cup)think of the money
They took 5500 to MK Dons.
User
Posts

757

Location

Our proud capital...
UPTHEPORT wrote:Not sure if its true but talk on terrace last night was that Lincoln have asked for 4000 tickets if we are not in with a shout at playoffs surely put extra seats in (as we did for the Cup)think of the money
Pretty sure that, as a one-off, we could give them some extra blocks of the Bisley and move the segregation netting (and put in place additional measures in the concourses). Relocate any ST holders into either the other Bisley blocks or into the Hazells Stand, and offer them a voucher for a free cup of tea or a beer as compensation. It'd be much cheaper and logistically easier and the ground should still be comfortably able to hold everyone (open the North Terrace as well if needs be).
Last edited by
Kairdiff Exile
on April 10th, 2019, 4:19 pm, edited 1 time in total.
User
Posts

3787

Location

Caerphilly
Just let them mingle in the home sections; what could possibly go wrong?
User
Posts

3803
They can ask all they like. Our safety certificate will only allow for 1030.
User
Posts

674
Sell them the 1000 tickets at £120 a head - we make the same money, without putting in extra seats. Seems like a plan.
User
Posts

3803
They may well confirm promotion on Saturday, and by the time they play us, will also be champions. They won't all be able to visit Rodney Parade. Keep the party for the following Saturday, Colchester may also be chasing points that day.
User
Posts

2508
excessbee wrote:They can ask all they like. Our safety certificate will only allow for 1030.
Can anyone tell me why it is now reduced to 1030.When we got in the EFL,we had the stand behind the goal installed,this took it to 1063.The following season,the small extention took it to about 1300.We had nearly 1200 twice when we played Pompey.Why is it down to 1030.
User
Posts

3803
Was the damaged section (after the Plymouth match, I think) replaced or just removed?
User
Posts

253
Lincoln will be promoted and should have won the league by then. They can keep their celebration bac until the last weekend of the season surely. Morecambe should be safe.
If we can get in a position knowing that if we beat Oldham and have a chance, it becomes a big game for us and not them.
The likelihood though is that it will be a dead rubber
User
Posts

1816

Location

The End of the Hedge
The damaged section was definitely fixed before the Spurs game last season which also had an extended away end of 600 (
https://www.southwalesargus.co.uk/news/15845066.county-hoping-to-boost-parade-capacity-further-for-spurs-clash/
),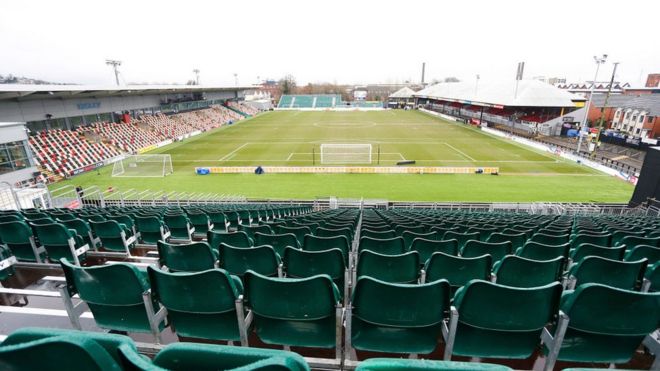 and this is earlier this season (Hazells ad and brickwork effect on changing rooms). Stand seems to be lower but wider than the one in the 2013-16 pic below...
but back in 2013-16 there was still this thing behind the stand, which presumably was part of the safety certificate numbers?
Pic without the temp stand